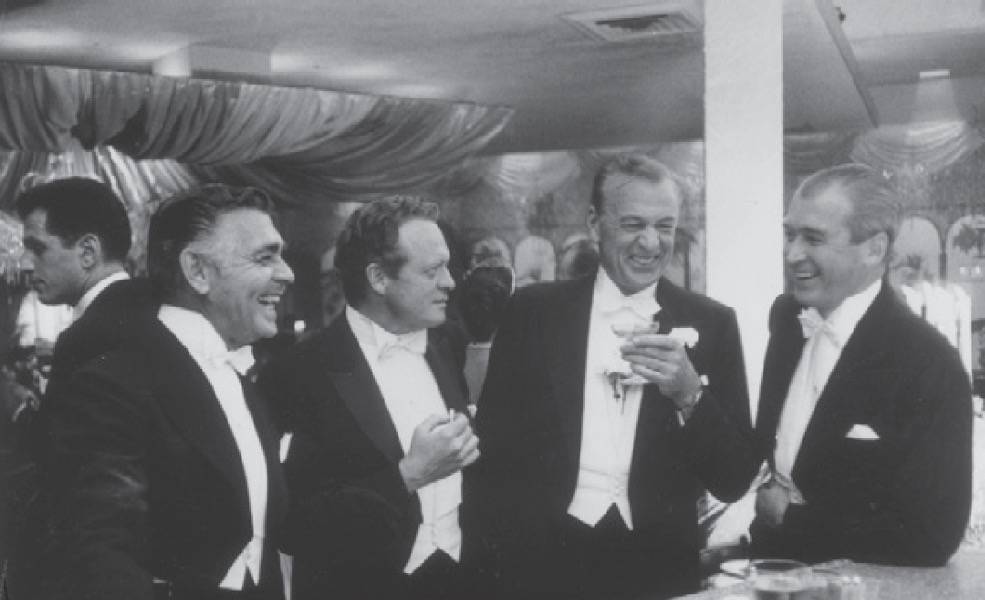 "Kings of Hollywood" (1957) by Slim Aarons. Depiction (left to right) Clark Gable, Van Heflin, Gary Cooper, and Jimmy Stewart.
Slim Aarons was not born into the life of the rich and famous, but he certainly acted like it. Aarons, originally named George Allen, was raised by his grandparents in rural New Hampshire. He served in WWII as a military photographer, but quickly made the jump from photographing war to scantily-clad celebrities after returning stateside. Aarons made a name for himself for capturing intimate, lavish portraits of Hollywood's most famous and wealthy figures through the 1950s, 60s, and 70s. But, how exactly did he end up swimming in the palazzos and pools of the elite?

Aarons dripped confidence. He was a notorious playboy, charming, and capable of getting practically any woman to pose nude for his photographs. More than his sexual prowess, Aarons acted like a celebrity. When asked how he found himself at seemingly every high society event, he simply said "they would invite me to one of their parties because they knew I wouldn't hurt them. I was one of them". To the celebrities like Audrey Hepburn, Marilyn Monroe, and Jimmy Stewart, Aarons wasn't a voracious fan or nosy paparazzo, he was a friend, a confidant, and a peer.
While some Slim Aarons photos involve an elaborate production with sets, costumes, and staging (in 1960 he convinced his model neighbor Mary Jane Russell to move her entire bedroom onto her lawn), many of his best work documents the quick, casual, and fleeting moments. He wouldn't carry huge bags of equipment or be surrounded by assistants, but instead usually only brought one camera with a few lenses, some extra film in a striped bag, and a light meter to a shoot. Not only did this mean he could quickly move around a Palm Springs pool party, but it also meant that he could blend in and encourage those he was with to act naturally. His photos take candid to another level, bringing a fly on the wall style that only an insider could offer. These photographed moments might seem mundane to those being documented, but Aarons understood the power that seeing a celebrity in their natural habitat would have for the common viewer. For a brief, elevating moment, we feel like we belong and are really at the party with Audrey Hepburn or Jimmy Stewart, an outsider turned insider, just like Slim Aarons.
"California Party" (1955) by Slim Aarons
Beyond his ability to blend in and make A-listers feel comfortable, there was an authenticity and straightforwardness to Slim Aarons that certainly helped him make it in Hollywood. Even as he found himself surrounded by Oscar winners and millionaires, Aarons remembered his roots, and was proud of them. He was not alone in this. Take Jimmy Stewart, one of the four men in Aarons's "Kings of Hollywood" photograph. Stewart was raised in a small town in Pennsylvania and was expected to run his father's hardware store. Like Aarons, Stewart also served in WWII. In the Golden Age of Hollywood, these stories were the norm, with countless celebrities having rags to riches tales. They helped to make Aarons relatable. Yes, he was capable of capturing extreme glamour and opulence, but he knew himself through and through and did not try to act like he was anything else. Quite literally, when asked why he never made it as an actor, he remarked "I can't be anything but me! That's why I'm no good in the movies. I can't play somebody else." Aarons' drink of choice was always a Ginger Ale, no matter where he went, another sign of his humility and simple sensibilities. He preferred to keep the theatrics in front of the camera, a choice that allowed him to capture one of the most iconic eras in Hollywood history with access, flair, and a sense of joy like no one else.